In the historic 'rose' city of Toulouse, France the sculpted Occitanie Tower will rise 150 meters above the Canal du Midi in the heart of the city's business district. Set to be the first skyscraper in the city, the tower's curvaceous form is interrupted by a spiral of greenery that rises from street level up to the 40th floor. Trees will line the building's platform and a ribbon of gardens will curl around the glass facade. The tower will include 11,000 square meters of office space, a Hilton hotel, up to 120 apartments, a restaurant with panoramic views, commercial space for shops, and offices on the ground floor for the railway company SNCF.
"The tower becomes a unique object in a vast urban space — the tower will not only become a destination, but also a defining public space." —Daniel Libeskind
Construction start date is set for 2020.
AWARDS
2018 – MIPIM/The Architecture Review, Future Project Award, Mixed Use Commended Award
More about this project
Daniel Libeskind's Skyscraper Will Be The First In This Historical French City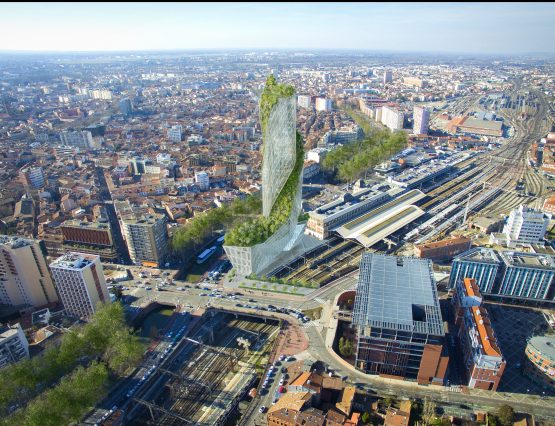 France's fourth largest city is finally set to grow vertically. Toulouse, a city founded in southwest section of the country around the 2nd century B.C., will soon have its first-ever skyscraper. And it will be designed by none other than world-renowned architect, Daniel Libeskind.
More about this article
Les Forets Verticales s'enracinent en ville
Vertical forests are taking root in cities including Studio Libeskind's Occitanie Tower in Toulouse, France
More about this article
Michael Ashley, RA, is the team lead on many of the Studio's projects ranging from cultural, residential to commercial. He was a key member of the design team on the Zhang Zhidong Museum, that opened in 2018; the CityLife PWC tower, currently under construction; and two mixed use projects in France; the Occitanie Tower in Toulouse and Iconic in Nice.
Previously, Michael gained experience at a number of multidisciplinary offices including LPAS (Sacramento) and Mark Dziewuski Architects (San Francisco) where he specialized in a variety of mixed-use and residential projects. In addition, Michael ran his own studio developing product and furniture design as well as architecture.
He received his Masters in Advanced Architectural Design from Columbia University in 2006 and received a BArch from Andrews University in 1997. He has been a visiting critic at Columbia University, Pratt Institute, Parsons New School of Design, and New York Institute of Technology. Michael speaks publicly about architecture and design, including the United Nations International School.
Arnault Biou serves as a lead designer on many international competitions as well as on large scale construction projects around the world. He has overseen design and construction of the courtyard extension for the Jewish Museum in Berlin, as well as for Reflections at Keppel Bay, a large residential complex in Singapore and the Corals condominium development adjacent to it. He is currently working on the L'Occitanie Tower in Toulouse, France.
Before joining the Studio in 2005, Mr. Biou worked as a senior architect with Steven Holl Architects where he was in charge of design and construction of the Whitney water plant and parc in New Haven. He also worked on the Iowa University School of Art, the Swiss Embassy in Washington DC, the Nelson Atkins Museum of Art in Kansas City and the Turbulence House in New Mexico. He gained experience previously working for Gigon und Guyer Architekten (Zurich), BMB Architekten (Zurich) and Calatrava Valls SA (Zurich).
He received his Diploma of Architecture at the Swiss Federal Institute of Technology ETH Zurich in 1995. He has been a guest critic at Pratt in Brooklyn and City College in Manhattan. Arnault speaks French, German, and English.
Jesse Bernard joined Studio Libeskind in 2014. Since that time, Jesse has been involved in a diverse array of projects through various design stages, including London's Holocaust Memorial design competition, the Ogden Centre for Fundamental Physics at Durham University in the UK and the National Holocaust Monument in Ottawa, Canada. Jesse is currently working on the mixed-use Occitanie Tower in Toulouse, France.
Jesse earned his Bachelor of Science in Architecture degree from Texas Tech University, graduating summa cum laude. He continued on at the university, finishing at the top of his class while receiving his M.Arch and MBA. Jesse is a registered architect in the State of New York.