Wallpaper: Daniel Libeskind's MO Museum opens in Vilnius
Lithuania's new modern art institution, MO Museum, has just opened in Vilnius to a design by Studio Libeskind.
More about this article
Harvard Business Review: Life's Work: An interview with Daniel Libeskind
From the Jewish Museum in Berlin to the Ground Zero reconstruction in New York, high-profile, emotionally charged projects have made Libeskind's reputation. An academic until age 43, he now leads—with help from his wife, Nina—a practice of 50 employees working on commissions around the world.
More about this article
Dezeen: Studio Libeskind's Museum of Zhang ZhiDong references Wuhan's industrial past
Daniel Libeskind's studio has completed its first project in mainland China – a museum in Wuhan featuring an arcing steel-clad volume elevated above a new public plaza.
Libeskind's New York-based studio designed the museum in collaboration with the City of Wuhan and China's largest property developer Vanke, which the architect created a dragon-inspired pavilion for at the Milan Expo 2015.
More about this article
Real Estate Weekly: Daniel Libeskind Doesn't Cut Any Corners With Senior Housing Design
International architect Daniel Libeskind is expanding his portfolio with a senior affordable housing project in Brooklyn.  Studio Libeskind was selected as part of a development team to create a 197-unit affordable senior housing building at the Sumner Houses in Bed-Stuy Brooklyn.
More about this article
Metropolis: Studio Libeskind Tapped to Design Affordable Senior Housing in Brooklyn
The new building, located in the Bed-Stuy neighborhood of Brooklyn, will create 197 affordable residences for the New York City Housing Authority.
More about this article
Le Monde: Les forêts verticales s'enracinent en ville
Vertical forests are taking root in cities including Studio Libeskind's Occitanie Tower in Toulouse, France.
More about this article
Interior Design: Studio Libeskind's PwC Tower to Redefine Milan's Skyline
Milan will soon welcome a twisting, prismatic skyscraper to its rapidly developing skyline. The PwC Tower, singularly occupied by Pricewaterhouse Coopers and designed by Studio Libeskind, will offer 33,500 square meters of office space across 31 floors and conform to today's highest standards of sustainability.
More about this article
Architectural Record: National Holocaust Monument
How do you speak of the unspeakable? That is the aesthetic conundrum posed by every memorial to the holocaust. Daniel Libeskind, principal of Studio Libeskind, based in New York, took on this challenge for Canada's National Holocaust Monument, which opened in October 2017 in the capital city of Ottawa.
More about this article
CLAD: Richard Leakey and Daniel Libeskind are bringing a museum of evolution to Kenya's Lake Turkana
The renowned paleoanthropologist Richard Leakey is developing a museum dedicated to the history of human evolution on the banks of Lake Turkana in the Kenyan desert.  Polish-American architect Daniel Libeskind is developing the project design for Leakey, and told CLADglobal the museum will "present our entire history through a spatial experience and the exhibits inside."
More about this article
Mansion Global: Beautiful Homes Pop Up in Some of the Most Unexpected Places
The famed architect believes luxury is about craftsmanship and customization, and buyers are choosier than ever
More about this article
Architect's Journal: London Festival of Architecture Event: Daniel Libeskind
Libeskind was speaking at a London Festival of Architecture event on Sunday (11 June), during which he was asked why there were so few prominent women architects. Starchitect Daniel Libeskind has blamed the lack of eminent female architects on a 'generative prejudice against women' in the profession
More about this article
Focus Magazin: Herr Libeskind und die Leidenschaft
For the interview in the Alte Oper in Frankfurt, Libeskind is happy about the success of his concert project "One Day in Life." In FOCUS, he talks about how his roots have shaped him, how he lives, where he sees his home – and his museum plans in Iraq.
More about this article
RIBAJ: Review for the Ogden Centre for Fundamental Physics
Architecture Critic, Hugh Pearman reviews the Ogden Centre for RIBA Journal saying, "The Ogden Centre for Fundamental Physics, Studio Libeskind's contribution to Durham University's science faculties, is dedicated to increasing our knowledge of the universe. It's not a bad building, either."
More about this article
The Irish Times: Libeskind makes peace with Poland as he reaches into Warsaw sky
World-renowned architect, Daniel Libeskind's global portfolio ranges from New York's World Trade Center redevelopment and Berlin's Jewish Museum through to the Kurdish Museum in Iraq and social housing models for dense urban environments in China and elsewhere. In Ireland his Bord Gáis Energy Theatre in Dublin has injected new life into the Grand Canal Harbour development.
More about this article
Architectural Digest: Daniel Libeskind's Skyscraper Will Be The First In This Historical French City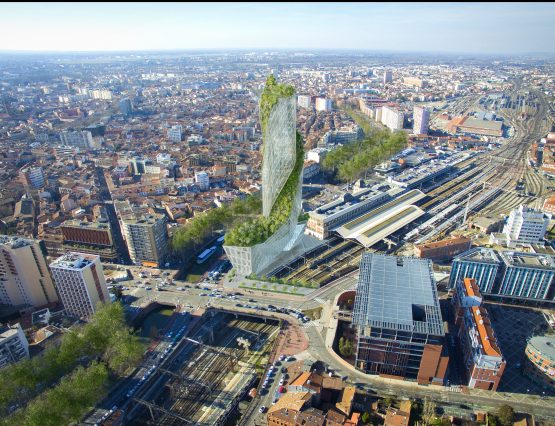 France's fourth largest city is finally set to grow vertically. Toulouse, a city founded in southwest section of the country around the 2nd century B.C., will soon have its first-ever skyscraper. And it will be designed by none other than world-renowned architect, Daniel Libeskind.
More about this article
wNYC: Setting the Story of the Kurds in Stone
In recent months, Kurdish peshmerga soldiers have made headlines as critical players in the fight against ISIS. For the Kurds, an ethnic minority group without their own country, this is a familiar role: they've grappled with violence and oppression for centuries. However, their story is largely undocumented and often forgotten. To change that, architect Daniel Libeskind and journalist Gwynne Roberts have teamed up with the Kurdish regional government to build a new museum in the city of Erbil, in Northern Iraq. But they're running up against challenges — namely, war. Producer Meara Sharma has the story.
More about this article
Dezeen: Daniel Libeskind completes larch-clad cosmology centre for Durham University
Daniel Libeskind has revealed his latest project – an £11.5-million centre for cosmology and astronomy researchers at Durham University in England.
More about this article
Curbed: The 17 most beautiful museums around the world
On the heels of Curbed's round up of the best museums and libraries in the United States, it's time to cue the wanderlust and turn our eyes abroad.  Although our country boasts some of the finest art in the world—all housed in seriously amazing buildings—there are a number of stunning museums around the globe.
More about this article
the Telegraph: Warsaw rising: the historic city is getting a starchitect's touch
From the 49th floor of Zlota 44, the Daniel Libeskind-designed tower, the charms of the Polish capital aren't immediately obvious. The city of just 1.7 million people lies on the rather unremarkable delta of the River Vistula, which bisects Warsaw, dividing the historic, established "left" or western side from the edgy, traditionally working-class "right" bank.
More about this article
Design Milk: Episode 23 of Clever: Daniel Libeskind
World-renowned architect Daniel Libeskind inspires Jaime and Amy with his eternally optimistic world-view and powerfully uplifting story of being born into persecution, immigrating to "the promised land" of the U.S. and participating in the space race. As the architect responsible for the master plan of the World Trade Center site, he composes memory in order to heal the future. Oh and he's got mad accordion skills.
More about this article
99u: A Driver's License Can be Revoked for the Elderly, but Artistic License? Never.
For creatives, the retirement age of 65 is merely a mile marker, not the end, of their life's ride. Here four old souls, ages 67 to 101, discuss why they continue to hone their craft with no end in sight. Why? "There is an immortality to being creative," says one.
Financial Times: Daniel Libeskind's Perfect Weekend in New York
Archinect: The Proust Questionnaire
In architecture, the personal tends to be prohibited. "Starchitects" might have notoriously big personalities, but how much do we actually know about them? Enter the personality quiz, a favorite pastime of young adults and, as it turns out, the architect Daniel Libeskind, who agreed to be the first in our new series, the Proust Questionnaire.
More about this article
NYTimes: Holocaust Memorial Is Closer to Reality in Amsterdam
AMSTERDAM — The architect Daniel Libeskind unveiled his design on Friday for a Dutch national Holocaust memorial in Amsterdam, to be laser-etched with the names of some 103,000 Jewish, Roma and Sinti residents of the Netherlands who were killed by the Nazis during World War II.
The names monument will consist of four walls made of red brick — a common material in Amsterdam houses — shaped into the form of the Hebrew word "Lizkor," which translates to "in memory of."
More about this article
Louisiana Channel: Daniel Libeskind Tribute to New York
"If you took the whole world and collapsed it into one little ball, you'd find it here, in this city." Daniel Libeskind, world-renowned architect behind the new World Trade Center site, gives tribute to his city in this short and colourful video.
More about this article
Handelsblatt: Rich and poor must be able to live together in a city
In having finished his newly built Haus Sapphire in Berlin-Mitte, Daniel Libeskind in an interview with Handelsblatt, talks about making capital successful in looking at the urban future, the link between affordable housing and social peace, and opinions towards what Donald Trump believes.
More about this article
The Times: Warsaw Undergoes a Tech Revolution
Tech workers, like artists, can be useful for property developers to follow when they are seeking the "next big thing". They will scrutinise, for example, the real estate investment opportunities prompted by the Cambridge to Oxford railway line and "tech corridor", which was promised a funding boost in the autumn statement last week. They will also consider where the extra 500 workers that Facebook plans to hire for its new London headquarters in Fitzrovia, will live, as well as those commuting to the new Apple headquarters at Battersea Power Station.
Where the geeks go, the builders will often follow.
More about this article
Live from the NYPL: Never Built New York
It's hard to imagine a New York different from the one we know, but what would the city have been like if the ideas of some of the greatest architectural dreamers had made it beyond the drawing boards and into built form? The new book Never Built New York paints the picture of an alternative New York, with renderings, sketches, models, and stories of proposals for the city that never came to be. Internationally acclaimed architects Daniel Libeskind. Steven Holl, and Elizabeth Diller come together to envision this alternate city.
More about this article
Take Two: Designing a public memorial after tragedy
The city of Orlando is in the process of trying to buy the Pulse nightclub where 49 people were killed and more than 50 injured in a mass shooting that occured last June.  Officials there are still trying to determine the best way to memorialize those who lost their lives.  In California, the first anniversary of the San Bernardino shooting is approaching.
Take Two's A. Martinez spoke with Daniel Libeskind on how to construct a public memorial in an interview for California radio, 89.3 KPCC.
More about this article
Der Spiegel: Daniel Libeskind warns of dead inner cities and calls for new thinking
The US architect Daniel Libeskind lived in Berlin for 14 years and is following its development with concern. The real estate boom "prices out people from the city who serve the city, but the city can no longer afford it."
It requires a rethinking of urban planning, looking at prestigious major projects such as the reconstruction of the Berlin City Palace , and towards modern social housing. And Libeskind wants to set a good example.
More about this article
The Frankfurt Concerts of Daniel Libeskind
Architect Magazine looks at the "One Day In Life," event curated by Libeskind and organized under the auspices of the Alte Oper, the musical company that occupies the renovated 19th-century opera house in the center of Frankfurt.
More about this article
Why Ground Zero is Daniel Libeskind's favourite architectural project
Daniel Libeskind talks about his process and why working on the master plan for the World Trade Center site will always remain special to him.
More about this article
Daniel Libeskind Building the Unbuildable
Daniel Libeskind is one of the most celebrated architects of our time, but before he made his name with the iconic Berlin Jewish Museum, his ambitious designs were largely dismissed and considered "unbuildable."
More about this article
Revista Código: Daniel Libeskind
Daniel Libeskind and architecture for the common good. Creating new living spaces that generate an environment conducive for comfort, amid the complicated construction of the Master Plan WTC New York.  The architect spoke with Codigo on his perception of discipline, convergences between architecture and music, and the ephemeral nature of buildings.
More about this article
LIBESKIND TOWER: NOW UNDER CONSTRUCTION AFTER THE COMPLETION OF ISOZAKI AND ZAHA HADID'S PROJECTS
Elle Decor speaks to Daniel Libeskind's tower to be constructed at City Life, Milan. The final to be constructed in the business and shopping district after the completion of Allianz and Generali Towers.
More about this article
Musical Chairs : Daniel Libeskind Unveils a New Project in Frankfurt
The One Day in Life initiative commissioned by the Alte Oper in Frankfurt, a musical labyrinth comprised of individual concert events in various locations across the city.
More about this article
DECO Home: A Feature on Salone 2016 and One Day in Life
DECO Home speaks to Daniel Libeskind about his collaboration with the Frankfurt Opera, One Day in Life, as well as his new design projects at Salone 2016.
More about this article
Cool Hunting: Daniel Libeskind and Alessi's Time Maze Wall Clock
Lufthansa Exclusive: Lord of the Angle
Daniel Libeskind returns to his musical roots with a concert project in Frankfurt am Main.
Architectural Record: Libeskind Unveils Apartment Complex and Design Objects in Milan
Architectural Record takes a look inside one of the Libeskind-designed CityLife apartments, as well as at Daniel Libeskind's collection of new products presented at the 2016 Salone del Mobile.
More about this article
El País: Roundup of 30 Amazing Museums
Spanish Newspaper El País presents a photo gallery of 30 of the worlds most spectacular, recently opened or announced museums, including Studio Libeskind's Zhang Zhidong and Modern Industrial Museum in Wuhan, China.
More about this article
Bloomberg Businessweek: Daniel Libeskind's Secret Museum of the Kurds
Daniel Libeskind unveils the design for the Kurdistan Museum in the 2016 Design Issue of Bloomberg Businessweek.
More about this article
Las Vegas Review Journal: Libeskind's Crystals Sells for $1.1 Billion
Two big retail investors made a bet Friday on a growing tourism market on the Strip.
In a widely rumored deal, Invesco Real Estate of Atlanta and Indianapolis-based Simon Property Group officially entered into a $1.1 billion agreement to buy The Shops at Crystals. The 324,000-square-foot luxury mall is part of CityCenter, which MGM Resorts International owns and operates through a 50-50 joint venture with Dubai World.
More about this article
Architectural Digest: 8 Steel Buildings That Are Incredible Examples of Modern Architecture
AD rounds up examples of modern architecture that make innovative use of the construction mainstay. Studio Libeskind's 18.36.54 house in western Connecticut is showcased for its mirror-finished, bronzed stainless steel exterior.
More about this article
Berliner Morgenpost: Why Daniel Libeskind loves Mendelsohn's Einstein Tower
Architecture, Astrophysics and a shining masterpiece: Daniel Libeskind and his son Noam visit Mendelsohn's Einstein Tower .
More about this article
The Art Newspaper: Libeskind's Modern Art Center in Vilnius
The first museum dedicated to Lithuanian Modern and contemporary art is due open in Vilnius, the country's capital, in early 2019. The 33,400 sq. ft concrete-and-glass building, designed by Daniel Libeskind, will act as a "gateway" between the Medieval and 18th-century parts of the city, according to the architect.
More about this article
Azure: Libeskind's High-Rise Tower in São Paulo
Shaped like a shard of glass, the architect's Vitra residential tower is also his first project in South America.
More about this article
Architizer: Vilnius Contemporary Art Museum Feature
The Art of Subtlety: Daniel Libeskind's Vilnius Museum Is an Exhibition in Newfound Restraint
More about this article
Wallpaper: Zlota 44 Feature
Vanity Fair: The 2015 'On Art' Architecture Portfolio
In Vanity Fair's November 2015 "On Art" issue, the magazine presents the "titans of global museum architecture", introduced by eminent friends, clients and artists. Daniel Libeskind, "The Deconstructivist", is pictured in his Jewish Museum Berlin.
CNN Style reviews Memory and Design Exhibition at Roca London Gallery
Six of the world's top architects and designers are delving into their deepest, darkest and most distant memories for a new exhibition. The exhibition hopes to shed light on the elusive role of childhood experience in shaping creativity in adulthood.
Childhood ReCollections: Memory in Design at Roca London Gallery will include six modern-day "cabinets of curiosities" created by architects Zaha Hadid, Kengo Kuma, Daniel Libeskind, and Denise Scott Brown, plus Spanish design duo Nieto Sobejano, and hat designer Philip Treacy.
More about this article
Architectural Digest: Pyramid Tower Feature
How best to build a new skyscraper in an ancient city? That question was top of mind for architects Daniel Libeskind and Israel-based Yigal Levi as they drew up the recently approved plans for a 344-foot building in the heart of Jerusalem.
More about this article
T Magazine: Six Leading Architects Defend the World's Most Hated Buildings
Daniel Libeskind and five other leading architects defend the merits of some of the world's most controversial buildings.
More about this article
Architect Magazine: The Tiles of Studio Libeskind's Vanke Pavilion
Architect Magazine explores the iridescent, red ceramic tiles covering Studio Libeskind's Vanke Pavilion at Milan Expo 2015.
More about this article
Newsweek: A Five-Mile Walk with Daniel Libeskind
Newsweek invites some of the world's most interesting thinkers to go on a five-mile walk of their choice, starting with Daniel Libeskind in Berlin.
More about this article
South China Morning Post: Libeskind's Expo Pavilion Shines
South China Morning Post explores China's architectural pavilions at the 2015 Milan World Expo, including the dramatic structure and lasting impression left by Libeskind's Vanke Pavilion.
More about this article
Architectural Record: Daniel Libeskind's "Future Flowers" at Salone del Mobile 2015
Milan Dispatch: Architects Manipulate Materials at the 2015 Salone del Mobile – The imaginative installations of Daniel Libeskind, Kengo Kuma, and more.
More about this article
One Day in Life: Daniel Libeskind Develops a Concert Project for Frankfurt
Daniel Libeskind has accepted the invitation of Alte Oper Frankfurt to develop his very own concert project for Frankfurt. The result is an artistic concept which extends far beyond the space of Alte Oper and the usual framework of concerts. Choosing the title "One Day in Life", Libeskind will create an entirely novel encounter between the city of Frankfurt, music, and the fundamental motifs of human existence. "One Day in Life" will take place Saturday, May 21, 2016 through Sunday, May 22, 2016.
More about this article
Architectural Record: Mons International Congress Xperience Feature, March 2015
Architecture critic Hugh Pearman reviews Studio Libeskind's Mons International Congress Xperience.
More about this article
Daniel Libeskind discusses Cities and Healing on Monocle Magazine's "The Urbanist"
Cities are places built to bring people together but every so often conflict and unrest in urban centers means that communal trust is broken. This episode of The Urbanist looks at how cities heal after conflict and the dust clears.
More about this article
Surface Magazine Feature on the Counting the Rice Table
Stories of Regeneration from the Second Generation – Museum of Jewish Heritage
To commemorate the 70th anniversary of the liberation of Auschwitz-Birkenau, join us for a live storytelling event as children of Holocaust survivors recollect what it was like to grow up in the shadow of the Shoah. This program was originally scheduled for International Holocaust Remembrance Day on January 27 and was postponed due to the snowstorm.
More about this article
Der Tagesspiegel – Daniel Libeskind
Daniel Libeskind interviewed by German newspaper, Der Tagesspiegelhttp://www.tagesspiegel.de/wirtschaft/immobilien/daniel-libeskind-ueber-berlin-das-neue-areal-rund-um-den-hauptbahnhof-ist-schrecklich/11269532.html
More about this article
Wallpaper* : Mons International Congress Xperience
"'It's not an expensive building but it's an elegant building and that's what we wanted,' says Daniel Libeskind. The architect is showing us around his latest project, a new convention centre – the Mons International Congress Xperience (MICX) – that is part of a wider regeneration masterplan for the pretty southern Belgian town of Mons, and the first of several projects planned for the city's year as European Capital of Culture.
Read more at Wallpaper*
More about this article
Daniel Libeskind : l'Histoire dans le dos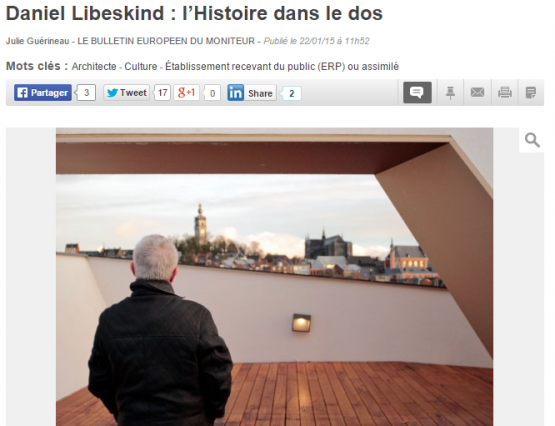 Le Moniteur visits the Mons International Congress Xperience in Belgium on its press opening.
More about this article
Daniel Libeskind's Favorite Design City?
T Magazine Features Counting the Rice Table
Marina Abramovic has joined forces with the architect Daniel Libeskind and the furniture design firm Moroso to create a limited-edition table…
More about this article
Smithsonian: 200 Years of the Star-Spangled Banner
Smithsonian Magazine showcases a modern artists' portfolio saluting America's most famous flag.
To renowned architect Daniel Libeskind, a Polish immigrant, the U.S. flag means "freedom of the individual, of religion, of democracy." Steel and aluminum convey the symbol's indestructibility.
More about this article
Co.Design Interviews Daniel Libeskind
The renowned architect talks to Co.Design about how he works, embracing failure, and why he'd love to design an airport.
More about this article
Wallpaper – Counting the Rice
Wallpaper Magazine feature on Daniel Libeskind's "Counting the Rice" desk for Marina Abramovic and Moroso
Studio Libeskind Launches Sapphire Project in Berlin
The Wall Street Journal: The Vanguard of Museum Design
A round-up feature in the Wall Street Journal featuring the Zhang Zhidong Museum and Modern Industrial Museum
More about this article
Daniel Libeskind on Planning and Evolving, The Commercial Observer
Daniel Libeskind Culture Feature in Tages Anzeiger "Architektur ist wie Musik"
Military History Museum on Cover of IDT Magazine, June 2014
Daniel Libeskind Profiled in L'Officiel Hommes
Architect's Journal Cover Story: Student Starchitects, July 2014
Crit memories: Foster, Rogers, Libeskind & Scott Brown, Architect's Journal, July 2014
Daniel Libeskind
At the Cooper Union, I took a course on structures in architecture given by Ysrael Seinuk, a renowned engineer famous in New York for his skyscrapers…
More about this article
Daniel Libeskind, "Drawing a New Architecture" feature by Ian Volner in Nuvo, Autumn 2014
Drawing a new architecture
Writer Ian Volner
Photographer Mark Peckmezian
Daniel Libeskind wasn't even supposed to be in New York. He was supposed to be in Dallas, Texas, for a symposium on urban issues—one of the countless conventions, colloquia, and festivals for which the architect has become a regular ornament over the course of his long career. Only two weeks prior, in early June, he had been in Venice for the city's Architecture Biennale; before that, it was Manila; the week following, London. But on this very summery mid-June afternoon, Libeskind's itinerant lifestyle had finally caught up with him, and he was laid low with a strep throat that had him recuperating at home in Manhattan.
More about this article
Wall Street Journal: Daniel Libeskind's Leonardo Sculpture, May 2014
Architect Magazine: Learning From Milan, May 2014
A cover feature by architecture critic James Russell. He reviews Daniel Libeskind's masterplan and residences for the CityLife in Milan.
More about this article
Financial Times: Interview with Daniel Libeskind, March 2014
Daniel Libeskind on what inspired his World Trade Center plan in an interview with Financial Times.
More about this article
Urban Environment Design: Issue Dedicated to Daniel Libeskind, February 2014
New York Times: Military Museum Confronts Past, January 2014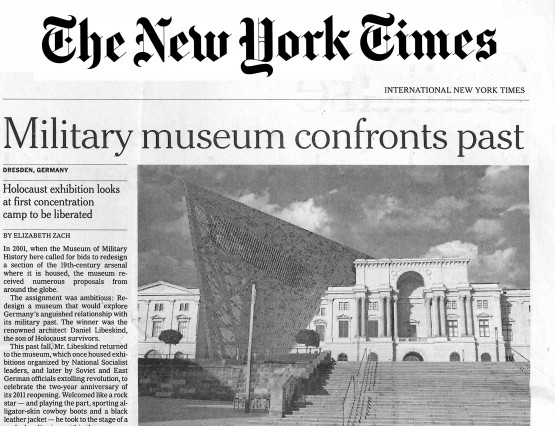 Elizabeth Zach, New York Times, interviewed Daniel Libeskind for the two-year anniversary of the Military History Museum in Dresden.
More about this article
Interior Design Magazine: Libeskind returns to Berlin, December 2013
Wall Street Journal: Op-Ed by Daniel Libeskind, August 2013
Exhibition of Daniel Libeskind's Architectural Drawings
Ermanno Tedeschi Gallery Exhibition
EXHIBITION OF DANIEL LIBESKIND'S ARCHITECTURAL DRAWINGS Offers Rare Glimpse Into Creative Process of World-Renowned Architect
From intimate sketches of the Jewish Museum Berlin to a large-scale scroll drawing depicting the 2013 master plan for Ground Zero in New York, drawings by architect Daniel Libeskind are the focus of "Never Say the Eye Is Rigid: Architectural Drawings of Daniel Libeskind," an exhibition opening on December 23, 2013 at Tel Aviv's Ermanno Tedeschi Gallery (3 Lilienblum Street).The exhibition arrives in Tel Aviv after opening at the Ermanno Tedeschi Gallery in Rome and in Turin. From Tel Aviv the show will travel to the Ermanno Tedeschi Gallery in Milan then travel to London and to New York City (location and dates to be announced).
More about this article
New York Times: Shopping with Daniel Libeskind, June 2013
Architect Daniel Libeskind has made a name for himself with major urban projects like the master plan for the World Trade Center site and the Jewish Museum in Berlin. But a growing part of his work involves design on a much smaller scale: furniture, building products, household accessories.
More about this article
Daniel Libeskind on BBC Dream Builders Series
Daniel Libeskind's first building was the Jewish Museum in Berlin. Shortly after it was opened he won a fierce competition to rebuild the most valuable and most politically charged piece of real estate in the world: Ground Zero in New York. It propelled him into the architectural stratosphere and was an experience that changed him utterly. He tells Razia Iqbal and an audience at the Royal Institute of British Architects of the twists and turns in an extraordinary tale.
W Magazine: The House That Fell to Earth, November 2010
Architectural Record: Denver Art Museum Cover Feature, 2007