Studio Libeskind completed this innovative convention center in time for the advent of cultural and diplomatic activities in 2015, when this small medieval town transformed into the European Capital of Culture.
The City of Mons conceived the Congres Centre as a new architectural landmark, a key element in a plan for economic revitalization, and as a connector between the old and the new. From the light- steel viewing platform at the top, a visitor can see the 17th-century Beffroi tower, a UNESCO Heritage Site of Belgium, in the historic center of town, and a new train station designed by Santiago Calatrava in the newer neighborhood of "Grands Prés."
The Congres Centre's cladding is open in a manner that gives texture and light to the bearing structure—ribbon concrete walls that ascend in a spiral. The lower walls are clad with vertical slats of unfinished robinia wood that echo the trees in a neighboring park. The upper are clad with vertical bands of anodized aluminum that follow the curve of the wall.
The ribbon walls allow for great flexibility of space, essential in a complex that houses a grand entrance hall, three auditoriums, a multi-purpose hall, conference rooms, offices, a restaurant, an underground parking and a green roof. To maintain the visual integrity of the form, the architects inserted few windows along the ribbon wall—and those are fronted by slats that are rotated to allow for daylight and views
Surrounding the complex is a forecourt of polished, earth-colored concrete, flecked with bands of Belgium blue stone. These blue bands continue onto the ribbon walls forming an irregular pattern that reaffirms the materiality of the design.
The project was completed in 2015
"…he brought plenty of daylight into the entrance lobby, made it huge, and complemented it with a showpiece stair, a piece of architecture in itself, with a spacious half-landing intended for hanging out." −Hugh Pearman, Architectural Record, March 2015
More about this project
Tour of the Mons Congress Center with Daniel Libeskind by Spirit of Space
Daniel Libeskind leads a tour of the new Congress Center in Mons, Belgium, by Spirit of Space.
More about this article
Presented at the Fondation Cartier in 1992, the exhibitionMachines d'architecture was conceived with Patrick Javault around a think tank of architects, the idea being to question construction in its relation to life, art, and privacy.
The Fondation Cartier thus exhibited architects for whom conception and thought take precedence and who set aside most of their time for drawing, writing, and creating machines that are not preliminary studies waiting to be built but actual works that fix the conditions of their potential and build their own realm of reception. The sculptures, texts and poems presented offer an alternative to construction and dwell on the importance of conception in architectural projects.
The catalog jointly published by the Fondation Cartier andTechniques & Architecture bears witness to this quest. Broadening our perception of architecture, these creators never fail to consider the multifarious practices linked to creation, demonstrating not only that construction needs to be rethought, but that architecture must remain an open perspective.
Preface by Jean de Loisy, texts by Donald L. Bates, Raoul Bunschoten, Liz Diller, Bruce Dunning, Meton Gadelha, John Hejduk, Patrick Javault, Jeff Kipnis, Daniel Libeskind, Jean de Loisy, Ben Nicholson, Alain Pélissier, Kenneth Rabin, Jesse Reiser, Ricardo Scofidio, Nanako Umemoto, Pieter Versteegh (Fondation Cartier)
Publisher: Fondation Cartier
Perfect Acts of Architecture
Perfect Acts of Architecture presents six sets of highly inventive drawings by the contemporary avant-garde architects Rem Koolhaas and Elia Zenghelis, Peter Eisenman, Bernard Tschumi, Daniel Libeskind, and Thom Mayne. Created between 1972 and 1988, when many architects turned to teaching because economic conditions had drastically curtailed building commissions, these works reflect the period's intellectual debates and demonstrate graphic experimentation as a proactive mode of research.
Each suite of drawings, fully illustrated with superb reproductions, offers great insight into the creative processes of six young designers, who went on to establish major international reputations. To put this "paper architecture" into a broader historical context, Kipnis and Riley provide introductory texts as well as concise commentaries on each of the projects. (Google Books)
Author: Jeffrey Kipnis, Wexner Center for the Visual Arts
Publisher: Museum of Modern Art
Our of Hand Materializing the Postdigital, Museum of Arts and Design
 "Our of Hand Materializing the Postdigital" Museum of Arts and Design, New York City, 2013
An exhibition exploring the latest digital design and manufacturing processes at New York's Museum of Arts and Design. The exhibition at the Museum of Arts and Design (MAD) features more than 120 examples of sculpture, jewelry, fashion and furniture that demonstrate different uses for computer-assisted production methods. All of the pieces on show have been created in the past decade by artists, architects and designers including Zaha Hadid, Anish Kapoor, Joris Laarman, Daniel Libeskind and Marc Newson.
More about this article
Mons International Congress Xperience Feature, March 2015
Architecture critic Hugh Pearman reviews Studio Libeskind's Mons International Congress Xperience.
More about this article
Mons International Congress Xperience
"'It's not an expensive building but it's an elegant building and that's what we wanted,' says Daniel Libeskind. The architect is showing us around his latest project, a new convention centre – the Mons International Congress Xperience (MICX) – that is part of a wider regeneration masterplan for the pretty southern Belgian town of Mons, and the first of several projects planned for the city's year as European Capital of Culture.
More about this article
Daniel Libeskind : l'Histoire dans le dos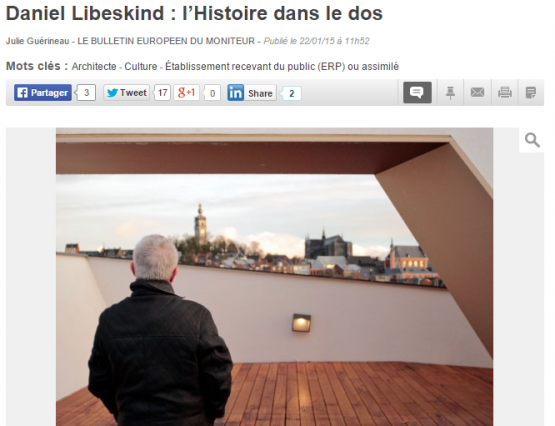 Le Moniteur visits the Mons International Congress Xperience in Belgium on its press opening.
More about this article